Top Trending Engagement Ring Styles in 2021
January 26th, 2021
As 2021 breaches the horizon, our dreams of new opportunities and possibilities are coming to fruition—dreams which have a direct effect on trends in the engagement ring department. This past year encouraged a return to simplicity and authenticity, as well as a new level of priorities which resonated with many on what to choose for the perfect proposal accessory.
The new year begins as a reflection of those shifts and the trends we are seeing have a direct correlation. Here, we've rounded up the top engagement ring trends for those planning to pop the question in the new year. We've included everything from new takes on traditional styles to rings we never expected to see.
Overlooked Necessities
We're kicking this guide off by focusing on one of the most important, yet often overlooked factors of finding an engagement ring: comfort. Within A Jaffe's Quilted Collection, you will find beautifully-crafted pieces that not only showcase a gorgeous design but are also crafted with maxim comfort in mind.
The quilted interior is carved utlizing cutting edge technology so the ring rests snugly on your finger with minimal movement—no twisting and turning. With a shimmering diamond center and 18K white gold band, these rings are perfect for any bride-to-be looking for something elegant yet easy to wear from day to day.
Subtle Solitaires
Nothing says classic sophistication like a solitaire engagement ring. This engagement ring style continues to rank as the most popular style for proposals and one of the trendiest pieces to choose from. While it is likely to remain a trendsetting staple in 2021, there are also fresh subtle details that will make your solitaire stand out from the rest.

These rings can be designed in a variety of styles to give a modern and unique twist while still retaining an elegant aesthetic and simple lines. If you're looking for something a little more individualistic, you can find solitaire rings with unique halos and different geometric designs to spice up your look. Consider this solitaire cradle engagement ring for a gleaming, asymmetrical choice.
Crossing Paths
If you're on the hunt for something most people have never seen before, then you've come to the right spot. With the Harley Wrap Engagement Ring, a beautiful diamond-encrusted band combines with an eccentric criss cross design with multiple overlapping bands. It's an intricate, thrilling design imbued with a hidden element—a pink sapphire stud on the inner ring.
This detailing is truly unique. Whether you're looking for sophistication or individualism, choosing this ring is a special way to showcase your everlasting connection.
Timeless Trinities
What's better than rocking a one diamond ring? Rocking a ring that features three diamonds! In the upcoming new year, the three stone engagement rings is set to become one of the most popular styles. For many, the three stones represent a love lasting through yesterday, today, and tomorrow, a meaningful reflection of the wedding vows.
One of our favorite pieces, the TACORI RoyalT emerald cut engagement ring, is a modern take on the three stone ring. The emerald cut center stone is flanked by two baguette side stones for a sleek silhouette, however, the cathedral setting allows for hidden diamond detailing on the bridge of the ring for an unexpected shine and romanticism. This ring is the ultimate embodiment of a fresh and new style to add to 2021.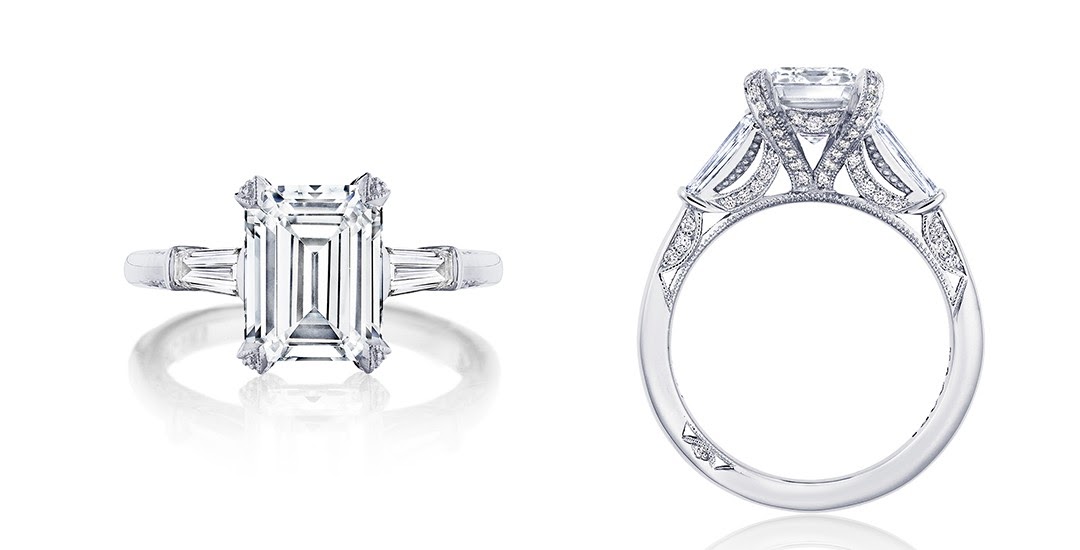 Find Your 2021 Engagement Ring at Long Jewelers
Make your magical proposal the most memorable event in 2021. Find all of these trending styles and more at Long Jewelers. Located in Virginia Beach, Virginia, we are dedicated to helping our community couples find the most beautiful accessory for a moment you'll remember for the rest of your lifetime. Let us guide you through the entire engagement ring process, call us at (757) 498-1186 to schedule an appointment with an experienced jeweler or stop by our store today.