Opal Jewelry for October Birthdays
October 15th, 2023
Birthstone jewelry carries deep significance, telling a personal story of one's birth month in the form of shimmering gemstones. For those born in October, the mesmerizing opal symbolizes their special time of year. With its eye-catching play-of-color, every opal captures a world of beauty in miniature, making it a heartfelt and memorable gift. Birthstone gifts are more than just accessories; they are intimate expressions of love and identity. Our exquisite collection of opal jewelry at Long Jewelers is curated to capture this magic. Each piece radiates elegance, ensuring that October babies wear their birthstone with pride and joy.
All About Opals
Known for their opulent hues that dance within, opals are a favorite among many jewelry lovers, and for good reason. Throughout history, these gems have symbolized hope, purity, and prophecy. Some ancient tales even attributed to them the power of invisibility. Their captivating beauty has long charmed gem enthusiasts and storytellers. Serving as the birthstone for October, they capture the month's mystical ambiance, representing those fortunate to be born under its autumnal canopy.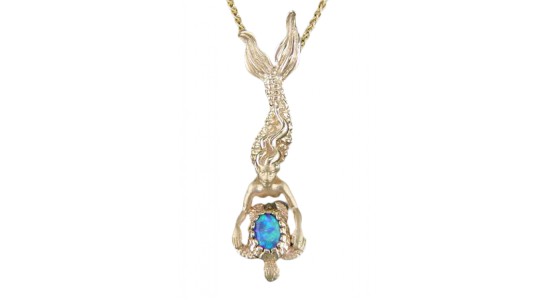 Mermaid Pendant Necklace
Elegance meets oceanic wonder in this exquisite opal necklace by Steven Douglas. This necklace portrays a graceful mermaid cradling a sea turtle, a touching tale of marine camaraderie. What truly captures the eye is the turtle's back, adorned with a captivating blue and green opal. This gem's radiant beauty and its significance as October's birthstone make this necklace an especially thoughtful gift for someone born in that month. Present it, and bestow a touch of oceanic enchantment upon an October-born treasure in your life.
Pink Opal Earrings
Exuding refined chic and glamorous appeal, these yellow gold drop earrings from Doves by Doron Paloma are a testament to sophisticated craftsmanship. The radiant pink opals nestled within them emanate a soft, enchanting glow. Ideal for someone with a penchant for classic yet eccentric pieces, these earrings make a statement. Gifting them to someone born in this month would not only celebrate their birth but also their taste for all things luxurious.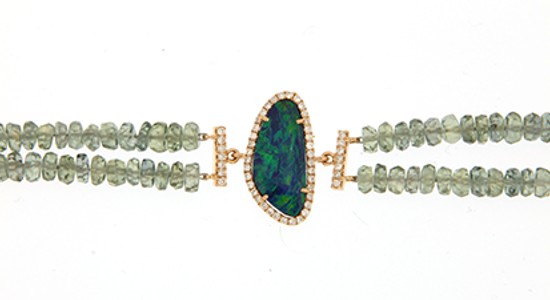 Beaded Opal Bracelet
Drawing inspiration from the verdant hues of nature, this Meira T bracelet is a symphony of labradorite beads paired with a standout opal centerpiece. Daring and expressive, it's not just a piece of jewelry but an artistic statement. Its dual strands and vibrant gemstones are both trendy and timeless, embodying a perfect balance. For the whimsical soul who finds joy in nature's palette, this bracelet is an ode to their spirited essence, making it an ideal gift.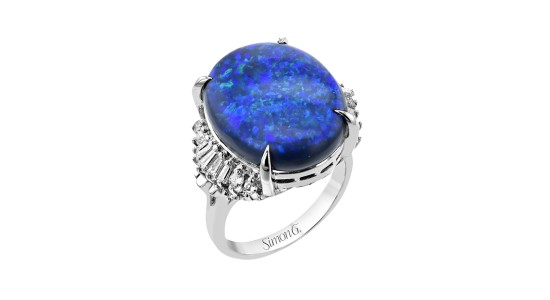 Bold Statement Ring
Crafted with precision by Simon G, this platinum ring showcases a resplendent center opal, flanked by glittering diamond side stones. It reflects a spirited commitment to ultramodern artistry. Such a posh piece isn't just an accessory but a testament to life's cherished milestones. Whether celebrating a significant birthday or another monumental occasion, gifting this ring would be akin to commemorating that special moment in the most luxurious manner.
Shop Opal Jewelry for October at Long Jewelers
Discover the allure of opals in the finest of forms at Long Jewelers. Our curated collection showcases unparalleled designer pieces that blend timeless elegance with contemporary flair. Each piece speaks to our dedication to quality and our passion for bringing unique designs to life. Our Virginia Beach jewelry store invites you to immerse yourself in a glamorous world where every gem tells a story. For those seeking exceptional craftsmanship paired with peerless service, look no further. Contact us for more information on our products and services. We're here to illuminate your journey with radiant treasures.