Amp Up Any Look with These 6 Bold Gold Statement Earrings
September 12th, 2018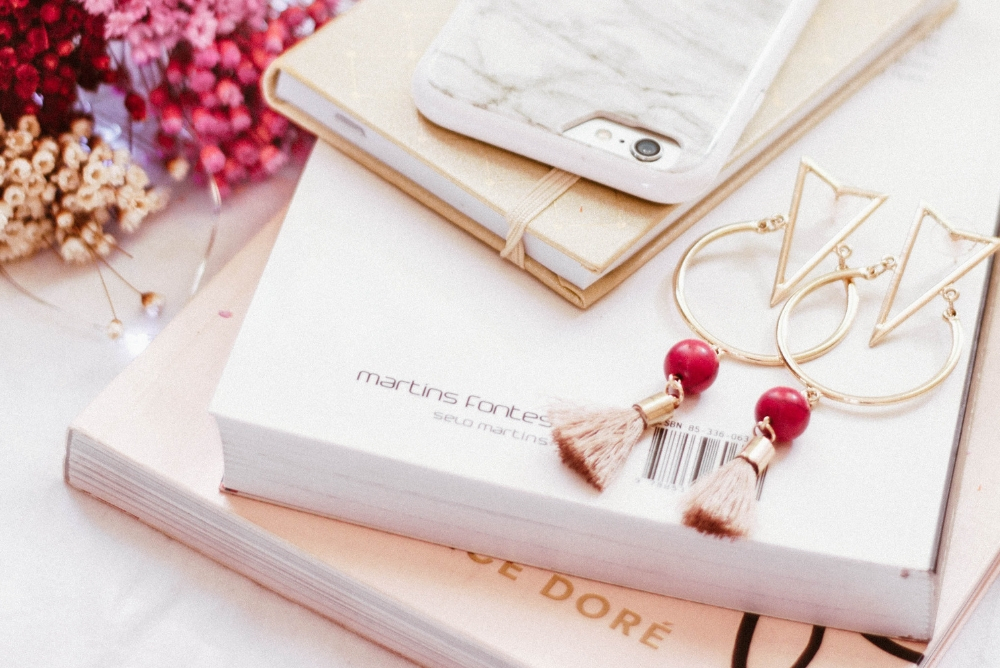 Gold statement earrings are one of the top jewelry trends. Statement earrings stand out, so they are often the focal point of the overall outfit. Styles range from subtle statements to bold designs that can capture anyone's intrigue.
How to Incorporate Gold Statement Earrings into Your Wardrobe
You don't want your statement earrings to clash with the rest of your outfit. Easy ways to ensure your gold statement earrings don't clash with your ensemble are to use them with neutral colors and avoid other precious metal jewelry.
Solid black outfits are perfect matches for these earrings. But you don't have to limit yourself to black; white and denim are great choices too. We have provided six bold ideas below for amping up your look via gold statement earrings.
6 Pairs of Statement Earrings to Fall in Love With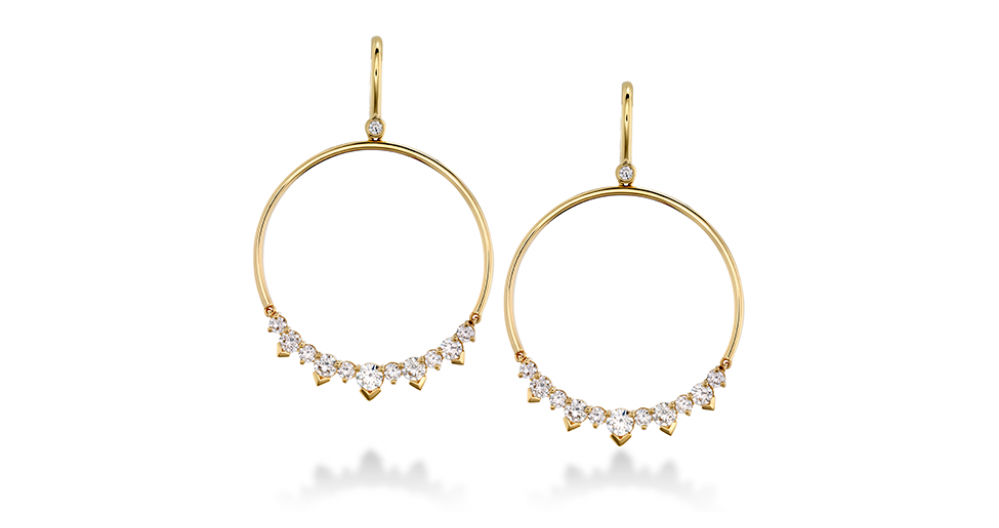 Hoop earrings never go out of style. They pair well with a wide variety of outfits, and hoop earrings come in multifarious styles. The Hearts on Fire Aerial earrings add glamour to your outfit with the beautiful sparkling diamonds along the bottom curve of the gold hoops. In addition to yellow gold, you can buy these gold statement earrings in rose gold and white gold too.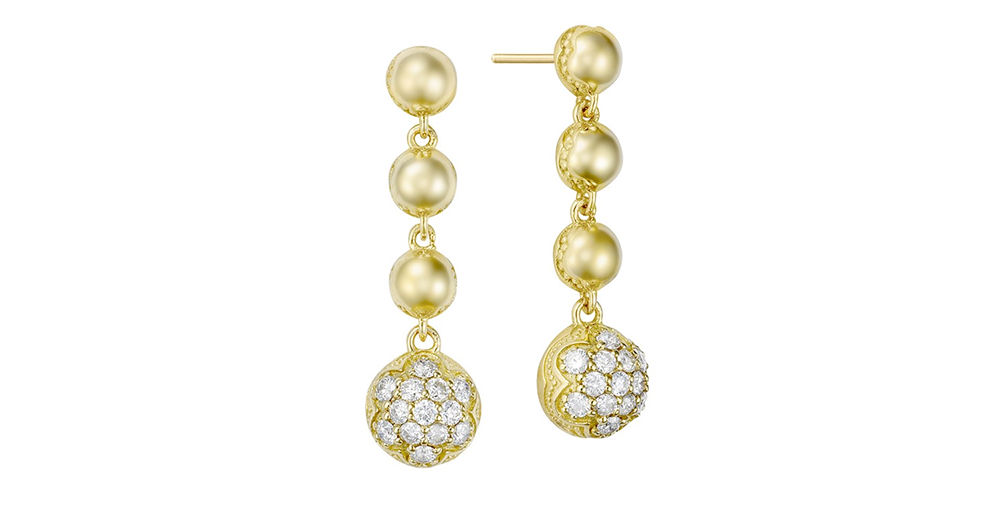 These cute earrings from TACORI's Sonoma Mist collection add a sense of fun to your outfit. They are great to wear when you're going out to a club or bar.
The earrings are made of 18K yellow gold and small round diamonds aligned in a star shape on the bottom globe. You can opt for the 18K rose gold version if you prefer. Pair them with an all black outfit, and the gold color will pop.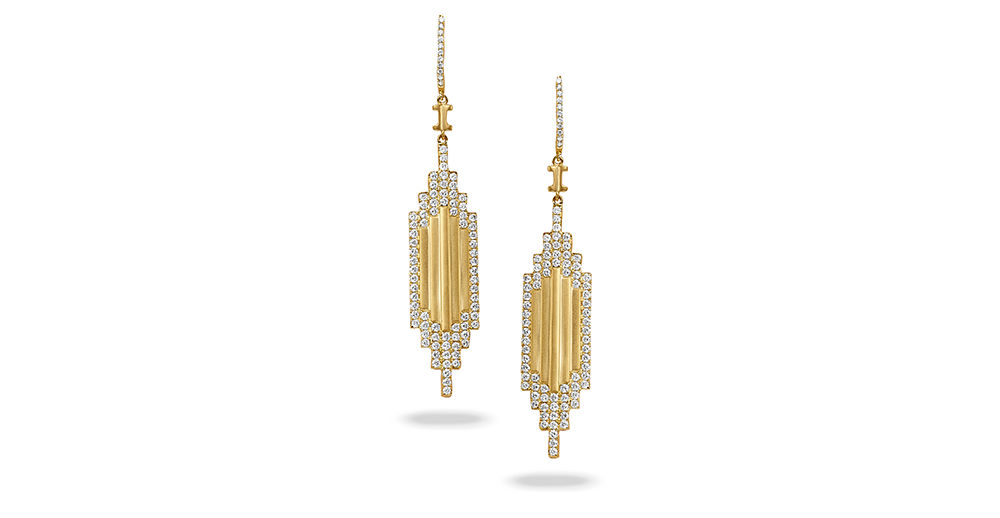 Featuring dozens of diamonds along the outer edges in an elegant drop design, the Doves by Doron Paloma Diamond fashion earrings establish a sense of luxury and fun. They are excellent to wear with a simple boho dress. Many people also like wearing drop statement earrings like these with white linen dresses.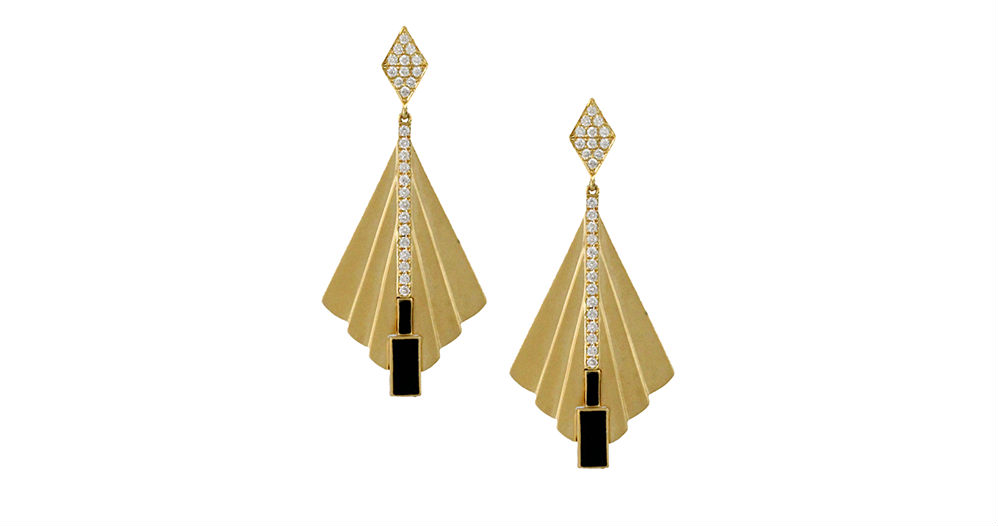 A good pair of gold statement earrings for the prestigious businesswoman is the Doves by Doron Paloma Gatsby earrings. They have a very bold design with 18K yellow gold fanning out from the center, two rectangular drops of onyx at the bottom, and a line of brilliant diamonds. You can wear them with a predominantly black business outfit, or pair them with a feminine black dress for special occasions.
These Meira T earrings have a funky design that you don't see often. Let the attention be drawn to these standout earrings by pairing them with a simple outfit. Two round diamonds are burnished into the 14K yellow gold for a beautiful, timeless look. The burnished setting dates far back in history and has recently become popular again in contemporary jewelry.
Earrings with mythical designs make a statement, and they can look upscale and stylish when done right. The Steven Douglas Mermaids earrings are a beautiful pair of 14K yellow gold hoop earrings with a mermaid sitting on each hoop.
Use them to add artsy flair to your outfit. They go well with black ensembles, casual jeans and shirts, and flirty outfits. You have many fun possibilities to use these artsy earrings.
If you're interested in buying any of these earrings, contact Long Jewelers for more information!