Trend Alert: How to Wear Gold and Silver Jewelry
December 15th, 2019
Gone are the days of over-prescribed fashion rules like matching your shoes to your handbag. Today, fashion and style are practically limitless, and "matchy-mismatchy" is decidedly in. From mismatched earrings (think one ear with a hoop, the other with a coordinating stud) to bracelets, the mingling of gold and silver together is taking over both street style and high fashion alike.
The key for how to wear gold and silver jewelry together is creating a look that's curated enough to look intentionally creative and playful (versus just devil-may-care). Follow these four simple rules to elevate any ensemble while ensuring your overall look is on-point.
Coordinate for day or night.
How to wear gold and silver jewelry together will depend a bit on the occasion you're dressing for. Are you wanting a day or nighttime look? Funky or more formal? Day looks can carry heavier, trendier pieces with a more eclectic overall feel. Evening ensembles, on the other hand, should take a more subtle, sophisticated approach.
In either case, opt for high-quality jewelry with a timeless appeal since it'll last forever and won't go out of style. California-based fine jewelry brand TACORI loves to incorporate 18k yellow gold and sterling silver in their effortlessly chic designs.
Two is the magic number.
Decide between gold and silver, white gold and silver, or rose gold and silver. There's no need to worry about other accessories, like your shoes, handbag, or wedding ring. But ideally, you'd find a way to incorporate a single piece that combines the two metals you're matching.
This will soften the look and help keep it organized and cohesive. Try something like a beautiful two-tone bar necklace from Charles Krypell that boasts glimmering 18k yellow gold set in a sterling silver setting and chain.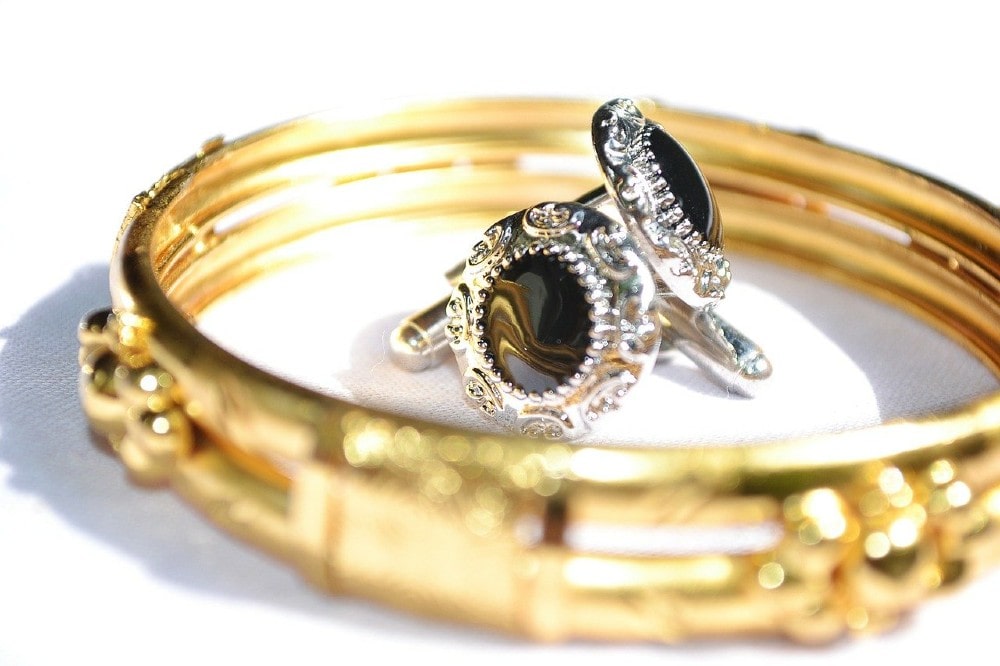 Add color to create cohesiveness.
While you want to avoid mixing too many styles, a matching gemstone in both a gold and silver piece is will help keep the overall aesthetic feeling pulled together and intentional.
Fana excels at crafting pieces rich with modern elegance suitable for everyday wear. Something that blends sumptuous rubies with bright diamonds can certainly be a statement piece on its own, but can just as easily do the heavy lifting of bringing delicate bands of alternating metals together for a wonderful stacked look.
Alternate around a statement piece.
Pick one area to emphasize: neck, wrists, ears, or fingers. Then select one standout piece and let the others play more of a supporting role, complementing the overall look without competing with the star.
If you're working with necklaces, start with the longest and layer alternating colors all the way up to the shortest. Stackable gold fashion rings or bracelets are other phenomenally popular ways to go. The same rule applies—add complementary pieces to a single statement ring or bracelet. This will ensure pieces aren't competing with one another.
Learn more about how to wear gold and silver jewelry
Ready to start mixing and matching? Get in touch by calling us at 757-498-1186 or stop into our Virginia Beach, Virginia jewelry store to explore and try on this trend for yourself.