Colorful Summer Jewelry
June 28th, 2017
Want to add more color into your jewelry collection? Well check out this list we've compiled of our favorite bold jewelry that is perfect for the summer. If you want to wear a simple outfit, make it daring, colorful, and bright with this bracelet, fashion ring, earring, and necklace. Summer is all about colorful days and warm nights so it's good to get a head start and make a collection you'll be proud to flaunt before fall.
TACORI Island Rains Earrings
TACORI is never shy when it comes to leading the way with awesome trends and fabulous designs. Their Island Rains collection is soothing to the eyes and reasonable on the pocketbook utilizing wonderful, colorful gemstones, diamonds, and metals. This collection makes us feel like we're in Hawaii or the Caribbean soaking up the tropical winds and sipping a strong "umbrella" drink. This pair of TACORI Island Rains earrings is made with diamonds, quartz, and turquoise, as well as 18-karat yellow gold and sterling silver. Just feast your eyes on these beauties or get them while you can!

Everybody dreams of having a ruby bracelet like Elizabeth Taylor right? Well now that dream can become your reality with this Fana Gemstone bracelet. It is made with diamonds, and rubies set in a pave setting of super fine 18-karat gold. Not only is this gorgeous bracelet bursting with rich color, it is equally wonderful to wear for a special occasion or a simple night out on the town. Dress up your wrist with this great bracelet and enjoy wearing it out everywhere, from the beach to special events.
Kattan High Quality Fashion Ring
If you really want to add some color into your jewelry collection, look no further than this beautiful fashion ring by Kattan. Intense color and its ability to be paired with almost anything, give this daring emerald green stunner something every woman can adore and appreciate. Sometimes you just want something delicate and bright, so this is a great place to start. This gorgeous ring is made with 18-karat white gold, emeralds and diamonds in a pave setting, and has an enchanting vintage design. Brilliance and style is everything this ring stands for and is perfect for that summer color pop!
Simon G Classic Romance Opal Pendant Necklace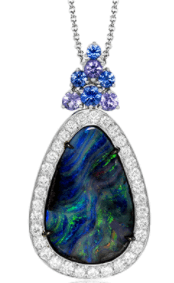 Ready to take the breath away of any wearer, this Simon G necklace from their Classic Romance collection is brimming with colorful accents. Its mesmerizing to observe and will surely get noticed with whatever outfit you are wearing. This statement piece is made with diamonds and sapphires accentuating the beautiful opal centerpiece. With high quality 18-karat gold, the pear shaped opal definitely gives this piece memorable appeal and is elegant both day and night.
You Belong at Long Jewelers!
For more information on any of these fabulous colorful summer jewelry pieces, please visit our " Contact Us" page, or call us at(757) 498-1186, or even better, come visit us at our Virginia Beach showroom! We would love to meet you and help you with any jewelry necessities.